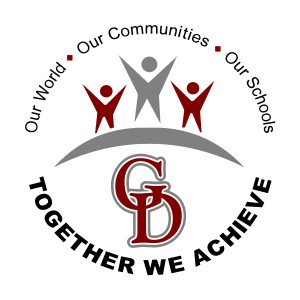 Groton-Dunstable Regional School District (GDRSD), which serves the towns of Groton and Dunstable, was established in 1967 and has an enrollment of 2,500 students at five schools.
The schools are Groton-Dunstable Regional High School, Groton-Dunstable Regional Middle School, Florence Roche Elementary and Swallow Union Elementary Schools and the Boutwell Early Childhood Center.
Mission Statement
The Groton-Dunstable Regional School District, in cooperation with the parents and the community, is committed to providing the best possible education for each student. It is our responsibility to promote in each child a spirit of inquiry and to instill a self-sustaining desire for continuous growth and service to self, family, and community.
Vision Statement
Guiding students to learn today, lead tomorrow, and reach the worlD.
Embrace a growth mindset. In our district, talents, and abilities develop through effort, purposeful teaching, and persistence. Our students become curious, engaged learners ready to become positive contributors to local and global communities.
Eliminate inequities for all students. Our students are an active part of the design and delivery of their own education so they become self-directed, creative problem solvers. Our universally designed, tiered instructional model meets the needs of all students, is based on a comprehensive standards-based curriculum and assessed by authentic tasks.
Broaden the meaning of success. We have an expansive definition of student success that encompasses academic achievement, integrated arts, athletics, as well as social, emotional, and behavioral learning.
Create environments for innovation. Our schools provide interactive, inclusive environments that enhance student success through design, technology, creative spaces, and collaboration.
District & School Calendars
For our daily school events and activities, please view our Calendar page. On this page, you will also find our official school and district calendars.
DESE Profile, MCAS Results & District Reports
Report cards answer important questions about a district's overall performance and contain specific information about student enrollment, teacher qualifications, student achievement, accountability, how a district is performing relative to other schools in the state, and the progress made toward narrowing proficiency gaps for different groups of students. Groton-Dunstable Regional School District is ranked among the Commonwealth of Massachusetts top-scoring school districts.
For the Groton-Dunstable Regional School District's Department of Elementary and Secondary Education (DESE) report card, please click here . For our MCAS accountability data, please click here . For our district MCAS results, please click here . Also important to share are the results of a DESE Performance Audit from 2005-2007 .